Reviews, Articles, Interviews – Marcia Henry Liebenow, violin
---
Fox Valley Symphony Orchestra thrills in season's second concert
Symphony candidate unlocks Tchaikovsky's intensity
Northeast Wisconsin Music Review – Grieg CD
Students take note of visiting violinist
Peorian Featured on Grieg CD
Recital with pianist Jay Mauchley
Soloists Dazzle - Bach and Beethoven
Recital with Antonio Pompa-Baldi
---
Fox Valley Symphony Orchestra thrills in season's second concert
by James Chaudoir, Community Columnist, November 16, 2015
Svara-Yantra, a Concerto for Violin, Tabla and Orchestra, by Shirish Korde, offered the audience a cross-cultural musical experience. While scored for the modern, or "western," symphony orchestra, the concerto incorporates traditional elements of Indian music as well. These elements include the use of Indian ragas, which are melodic modes, or patterns, and the addition of the Tabla, an Indian drum, as a solo instrument.
The music can best be described as mesmerizing. At times, the orchestra would provide colorful harmonic support, approaching minimalism. At others, striking melodic imitation of the vibrant lines heard in the solo violin, as demonstrated in the final movement, [Joy].
I found Korde's orchestration to be particularly successful, especially the use of a chamber wind section, only one player representing an instrumental section and the addition of mallet percussion. This voicing allowed him to create subtle yet effective colors and sound columns, while allowing the solo voices to continually come to the fore.
Performing the solo roles were Marcia Henry Liebenow, violin, and Zach Harmon, tabla.
Liebenow's interpretation of the score was impressive. Her sound was rich and sonorous in the lower passages while light and yet penetrating when the melodic phrases floated into the upper registers.
She seemed to be very much at ease, displaying great artistry with the bending lines and microtonal inflections needed to express the ragas used for each movement.
Harmon's mastery of the tabla was more than quite evident. This was most apparent during his extended cadenza, midway through the composition. In addition to the use of the tabla, the score also called for a drum kit to be used, with the tabla functioning as a part of that set. Harmon was most skillful in combining the two. Opportunities for improvisation were offered in the score, a task that Harmon not only relished, but also played with artistic excellence.
---
Symphony candidate unlocks Tchaikovsky's intensity
By Gary Panetta of the Peoria Journal Star, Monday, November 9, 2009
PEORIA — The plot thickens after hearing music director candidate Morihiko Nakahara and violinist Marcia Henry Liebenow Saturday at the Civic Center Theater.
The two put on quite a show with a program that consisted of Liszt's "Mephisto Waltz" No. 1, two obscure but accessible pieces for solo violin as well as Tchaikovsky's sprawling 45-minute Symphony No. 6 (the "Pathetique") to conclude the evening.
Liebenow was impressive, but so was Nakahara, the third of seven candidates for the position of music director for the Peoria Symphony Orchestra. If the remaining four candidates come across the same way, who will the symphony hire?
Off the podium during a pre-concert lecture, Nakahara wasn't merely personable, but completely relaxed and not above a joke or two with his listeners. Should he be chosen, this young, 30-something conductor's experiences with marketing and attracting new audiences for the South Carolina Philharmonic, where he is now music director, might help the Peoria Symphony Orchestra grow its base.
In any case, Nakahara's efforts on the podium were superb, bringing the crowd of about 1,200 in the 2,200 seat Civic Center Theater to its feet after Tchaikovsky's Sixth. For many listeners, this is probably one of the most gripping things the Russian composer ever wrote, and Nakahara and the orchestra worked hard to unlock the score's intensity.
The first movement, for instance, opened splendidly with that grim bassoon solo (Michael Dicker) supported by violas and basses. This initial theme leads to a second — very famous — theme: A soaring, singing melody in the strings, filled out with colors from the horn. Guided by Nakahara, this was intensely and beautifully phrased, one of the most memorable moments from the piece as a whole. Also very effective was the sudden change in mood: A sudden blow up of timpani and brass instruments announcing the start of a tortured development section.
The rest of the piece was ably performed, although I thought the third movement could have had more a little more lightness and energy, at least at the beginning. The final movement was devastating: A wrenching, soulful piece of music that ended with seemed like a heart beat fading into silence.
Liebenow, the orchestra's concert master, brought her customary technical skill and romantic temperment to "Air for Violin and Orchestra," a contemporary piece by Aaron Jay Kernis, whose music is receiving a lot of play by Joshua Bell and others; and to "Irish Rhapsody" No. 6 by Charles Villiers Stanford, a fairly obscure piece of music that's seldom played.
In many ways, it was a spellbinding performance. Liebenow played those long lines in the Kernis with intensity, rounding off phrases with a well-considered vibrato. The piece itself is striking: Ranging from an Aaron Copland-like openness to passages that are grim and agitated.
Obscure or not, "Irish Rhapsody" is an audience-pleaser that includes folklike melodies and a section with something like a gigue. Liebenow handled the latter with flair and infused the melodies with both warmth and a haunting resonance. A marveous performance indeed.
---
Northeast Wisconsin Music Review
Erik Eriksson, reviewer, April 2008
CD Reviews: Classical
Grieg: Works for Piano, Vol. 7
Sonatas for Violin and Piano
Antonio Pompa-Baldi, piano, and Marcia Henry Liebenow, violin
Centaur Records
CRC 2886
Edvard Grieg's three sonatas for violin and piano were viewed by the composer as among his most definitive works, works which marked his development as a composer and national icon. They cover a span of twenty-two years and draw heavily, as one would expect, from the folk music of his beloved Norway, much of it quite lively. Still, for all their frequent lightness of gait, there is an unmistakable mist of sweet melancholy suffusing this music and lending it a depth that gently pulls at the heart. Each is crafted with care; attentive listening reveals just how beautifully assembled they are, how effective in their emotional appeal. Grieg's singular brand of lyricism is evident throughout and stamps these three works as unique in the violin/piano canon.  
The two artists featured here form a strong, sensitive team, meticulously responsive to this music. Marcia Henry Liebenow is an instructor of violin, viola and chamber music at Bradley University and Concertmaster of the Peoria Symphony Orchestra; she has taught and performed widely in America and abroad. Antonio Pompa-Baldi was 1999 winner of the Cleveland Competition and 2001 Silver medalist at the Van Cliburn International Piano Competition. A welcome presence on stages in the United States, Europe and Asia, he serves as Distinguished Professor of Piano at the Cleveland Institute of Music.  
Liebenow and Pompa-Baldi are not without recorded competition in these works, but they yield to no other team in both their mastery of technical issues and interpretive savvy. The first two sonatas (Op. 8 in F major and Op. 13 in G major), slightly shorter and simpler than the third, benefit from Liebenow's beautiful, dark, very full tone, so ample she does not need to press unduly on any passage. Pompa-Baldi, likewise, modulates his sound with utmost skill while always giving the springing folk figurations their full due. In the Op. 45 sonata in the bold key of C minor, the pair are quite remarkable, lustrous in sound and penetrating in their musicianship. The contrast between the rather severe first theme and the more amiable ones that follow is well-realized. The second movement (Allegretto espressivo alla Romanza) finds the players appropriately highlighting the independent paths drafted by the composer and the sonata-form-sans-development-section finale holds all the surprise implicit in its striking modulations.  
With such outstanding performances captured in excellent sound, this release ascends to first choice in this repertory; it warrants the warmest of recommendations. (EE)  
---
Students take note of visiting violinist
By Tara Becker, Sauk Valley News Reporter, February 23, 2008
tbecker@svnmail.com
photographs by Phillip Marruffo, Sauk Valley Newspapers, all rights reserved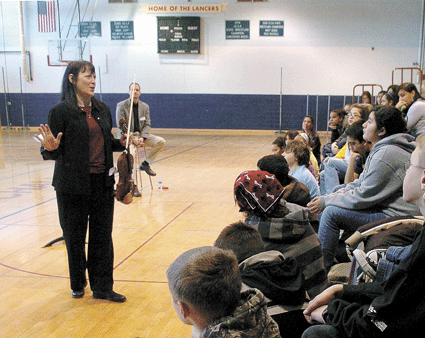 The sounds coming from the Challand Middle School gym Friday afternoon were out of the ordinary - rather than shouts and screeching sneakers, classical violin music reverberated off the walls.
The bleachers were packed with Challand band and orchestra students, who watched in awe as Marcia Henry Liebenow feverishly pulled the bow across the strings, playing for the students.
"You want to have a nice sound on your instrument when you play," Liebenow said as she finished. "As long as you produce a beautiful sound, people will listen."
Liebenow, a Peoria Symphony Orchestra concertmaster, is the Clinton Symphony Orchestra's featured soloist at a concert tonight in Centennial Auditorium at Sterling High School.
Thanks to a grant from Sauk Valley Bank, Liebenow and Brian Dollinger, the symphony's new music director and conductor, visited the middle and high schools to talk to band and orchestra students about playing professionally, and about music and sound.
"This is such a wonderful opportunity for the kids to see what they could do with their music," said Barb Leuff, orchestra director at the middle school. "It's wonderful for them to see an adult out there doing it. It further solidifies music education for the kids."
The Ohio-born Liebenow has been playing violin since fourth-grade. She comes from a musical family - her father was her band and orchestra teacher in high school. Music education in her school gave her a wider range of experience, she said.
"Though I come from a musical family, I am someone who started playing music in the public school," Liebenow said. "The opportunity I've had would not have been there if it wasn't for music in schools."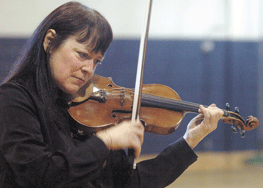 Liebenow teaches violin, viola and chamber music at Bradley University, in Peoria, and is a founding member of the Concordia String Trio, the River City String Quartet and the jazz quartet Marcia Henry + 3. She has also appeared as violin soloist with orchestras in Russia, Italy, Germany and nationwide.
At the end of the visit, each student was given a free ticket to the concert. Dollinger said he hopes the visit not only encourages students and their family to attend the concert, but also shows the community that orchestra music is fun.
"After the first concert I conducted, I ran out to the hall to talk to people about the performance," Dollinger said. "A lot of people said everyone played well, and a lot of people said it was fun. That really stuck with me; we want to be fun and exciting."
He added, "When you come to one of our shows, we guarantee that you will be familiar with at least one of the songs we play. You may not know the title of the song, but you'll recognize it when you hear it."
The Clinton Symphony Orchestra has musicians from all around the region, including Polo, Freeport and Sterling.
---
Peorian Featured on CD
By Divina Baratta, Peoria Times-Observer, Dec. 5, 2007
photo by Emily Hoerdemann, all rights reserved

"I'm always working," says Marcia Henry Liebenow. But her words aren't pinched with exhaustion. Instead she smiles, waving her hands in the air as she surveys an office full of sheet music.
Liebenow teaches violin, viola, and chamber music at Bradley University. She acts as first-chair violinist and Concertmaster for the Peoria Symphony Orchestra (PSO). And, in between, she's a thriving recitalist, chamber musician, soloist, and, most recently, recording artist.
Grieg: Works for Piano, Vol. 7. Sonatas for Violin and Piano was released in October by Centaur Records and features Liebenow along with internationally renowned pianist Antonio Pompa-Baldi.
"Performing with Antonio was a wonderful experience," she says. "And I was honored that of all the great violinists he knows, he wanted me to record with him."
Liebenow met Pompa-Baldi when they played chamber music together in a recital sponsored by the PSO at Bradley University's Dingeldine Music Center. He also visited Peoria a couple times after that to play with the PSO at the Civic Center.
"During his third visit, he asked if I knew any of Edvard Grieg's sonatas. I was very familiar with the Norwegian composer's orchestral works, but not all three of his violin sonatas. This was in September of 2005, and Antonio asked if I could rehearse the pieces with him and start recording in January of 2006. The timeline was incredibly quick, but you just don't say no to an offer like this!"
A native of Foggia, Italy, Pompa-Baldi came to the United States in 1999 for the Cleveland International Piano Competition. He won the first prize and decided to move with his wife, Italian pianist Emanuela Friscioni, to Cleveland to begin fulfilling all the engagements that came along with his victory. Since then, he has performed in major U.S. venues such as Carnegie Hall and toured internationally in cities from Paris to Tokyo.
Pompa-Baldi had been working for some time on a series of Grieg's pieces, the bulk of which were all composed for the piano. This new volume (vol. 7) focuses on the three sonatas written for violin and piano.
When Liebenow and Pompa-Baldi finished rehearsing, they traveled to Baton Rouge, Louisiana, home of Centaur Records, to work on the new CD with recording engineer Dan Cassin.
"Antonio has such a great command of the piano, playing both with power and touch. But I felt a really good musical connection between us," says Liebenow. "Dan was also fantastic to work with. He's a cellist himself and knows a lot about music and the production side of things."
The recording sessions lasted between six to eight hours a day for three days straight. "Luckily, we relaxed each evening," adds Liebenow. "Myself, Antonio, Dan, and my husband Mark, who joined us on the trip, enjoyed some amazing meals there. The chance to unwind and socialize made the experience even more meaningful."
A little over a year later, in March of this year, Liebenow and Pompa-Baldi had just about finished the final pre-release touches for their CD and decided to host a concert at Bradley University. It featured two of the Grieg sonatas and one from Mozart.
"There was a feeling of electricity from the moment we stepped on stage, both from the audience and from playing together. The audience liked the first piece so much that the people clapped until we came out to play the second one. Then they demanded two encores, so I think it's safe to say that Antonio and I play very well together. We challenge each other in different ways, and the resulting balance of expression and technical precision is powerful."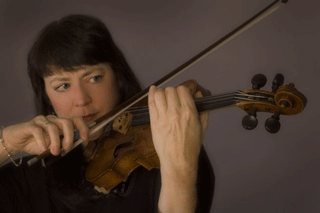 In addition to this collaboration, and her work at Bradley University and with the PSO, Liebenow leads an active career performing across the U.S. and abroad. She is also a founding member of the Concordia String Trio and the River City String Quartet, and has performed and taught at a number of music festivals and workshops.
"It was humbling in a way to play with Antonio because he has an international reputation, gives concerts all over the world, and he's a Van Cliburn winner," she says. "At the same time, I'm used to playing with great musicians every summer at the Red Lodge Music Festival in Montana and the Birch Creek Music Festival in Wisconsin. And Yo Yo Ma remembered me from when I was playing in Boston, when he was here several years ago to play with the PSO."
Liebenow's frenetic enthusiasm clearly comes through as she shares her experience in the music business. Equally as exciting is the voice of her violin, which leads the melody of Grieg's first sonata (F major, Op. 8) on the new CD. The following two (G major, Op. 13, and C minor, Op. 45) lace the violin and piano together, while still offering each their own resonance.
You can hear the spirited, musical dialogue between Liebenow and Pompa-Baldi for yourself by picking up a copy of Grieg: Works for Piano, Vol. 7. Sonatas for Violin and Piano in Peoria Heights at I Know You Like a Book, located at 4704 N. Prospect Road. Or, purchase the CD online at ww.centaurrecords.com.
---
Liebenow teams with Mauchley
Violinist, pianist to perform at Bradley, Eureka College
By Gary Panetta of the Peoria Journal Star,Sunday, September 23, 2007

PEORIA - People reveal a little bit about themselves in everything they do - not least composers who pour their souls into the music they create. So it's a little tempting to hear a kind of sonic autobiography in the famed Sonata for Violin and Piano by Cesar Franck (1822-1890), the centerpiece in two upcoming concerts with violinist Marcia Henry Liebenow and visiting pianist Jay Mauchley on Sept. 30 at Bradley University and Oct. 1 at Eureka College.
The first movement is leisurely, innocent-sounding, with a flexible rhythm - very expressive, lots of rubato, pushing phrases or holding back a bit. The young composer in his youth, perhaps? The second movement is fast, agitated, restless, moments of repose interrupted by the return of a passionate theme - a possible glimpse of the composer as an ardent young man. The third movement is reflective; a slower pace and a beautiful melody. Passions quieting, perhaps, in the light of maturity? A sense of life's seriousness?
The final movement is a deeply moving canon (a musical form with echoing melodic lines - think "Row, Row, Row Your Boat"). A take-your-breath-away melody starts in the piano and is repeated by the violin. The piece ends joyously. Is the composer here looking back at life, reconciled to its inevitable disappointments and tragedies, grateful, it is hoped, for having lived?
So run the reflections on Violinist.com, a blog for violinists.
"It's like life in one piece," Liebenow said. "The third movement ends in a very dark, somber tone. And then the fourth movement is like the sun came out. The moods that the piece takes you through as a listener and as a performer are really incredible. So it feels like life."
"It's a piece that I really love - it has a very big piano part, it's very difficult in the late Romantic tradition," said Mauchley, who teaches at the University of Idaho at Moscow. "It uses the instrument in a very brilliant way - it uses all of the different registers of the instrument. It's kind of all over the piano. I like playing it, I like the sound of it. It's just a beautiful work."
A precociously gifted pianist and organist, Franck composed numerous pieces for piano and organ, as well as operas, sacred music and works for chorus and orchestra as well as chamber music. The Sonata for Violin and Piano was composed in 1886, only four years before Franck's death. He was beloved by his pipe organ pupils, and organ lessons often became lessons in composition as well. A selfless, simple man, Franck's character contrasted with that of many of his musical colleagues, who devoted themselves to intrigue and politics to secure prestigious positions, biographers note. Franck seemed to rise on his own merits.
Mauchley and Liebenow, who met each other at the annual Montana Red Lodge Music Festival, will perform the Franck sonata four times: twice in central Illinois next week; once at the University of Idaho at Moscow on Oct. 4; and once again at Eastern Washington University on Oct. 6. Each time, they will explore the nuances of the pieces a little deeper, Mauchley said. Indeed, in a different venue and at a different time, the same piece of music can take on a slightly different character. That's especially true in the case of Franck, who wrote music that is so multifaceted.
"It's very virtuosic for both instruments," Mauchley said. "It has - as in so much Romantic music - a lot of changing moods, different characters. It just has beautiful melodies. It's extremely well-written for the piano - the guy really knew how to play the instrument."
---
Soloists dazzle during musical dialogue
Peoria Symphony shines in presenting selections by Bach, Beethoven
By Gary Panetta of the Peoria Journal Star, Monday, March 26, 2007

PEORIA - A touch of harpsichord, the stratospheric sound of piccolo trumpets, a pair of engaging guest artists and a masterful ability to inhabit the sound worlds of two distinctive eras of European art music were among the highlights at Saturday's Peoria Symphony Orchestra concert.
The eras in question were the baroque and late classical - the former represented by Bach, the latter by Beethoven. As noted by music director David Commanday, in Bach's time the composer is still a servant, wedded to worship and dance forms. But by the time of Beethoven, the composer has become something different: a genius, a hero who stands apart from both the masses and the elite.
I admit to worrying a little at first about the choice of Bach. This thinly orchestrated music can sound remote and small in the Civic Center Theater. But there were no problems Saturday night. The Orchestral Suite No. 3 is a great choice as a concert opener with its festive-sounding timpani and glittering trio of piccolo trumpets. The second movement, "Air" - more popularly known as "Air on the G String" - was somber, restrained and yet deeply affecting. If this section didn't choke you up a little, you may not have a heart. Throughout the five movement work, a wonderful sense of rhythm and an understanding that Bach is passionate in his own way served Commanday and the musicians well.
The Orchestral Suite, which started the concert, made an interesting contrast with Beethoven's Symphony No. 8, which ended the concert. The Bach was great but the Beethoven was grand. In fact, except for a brief, tricky horn passage in the third movement, Commanday and his orchestra really nailed this piece: Although this symphony is often considered restrained when compared to Beethoven's other pieces, it is in fact noisy, brutal music with biting rhythms and swelling passages that verge on chaos. The orchestra played it that way, winning a deserved standing ovation.
Another highlight consisted of guest soloists Marcia Henry Liebenow, the symphony's concert master, and Mark Weiger, an oboe player and professor at the University of Iowa. The two paired up for Bach's Oboe and Violin Concerto in C-minor in what amounted to a musical dialogue, with each instrument questioning, answering and interweaving with the other. The effect was particularly beautiful in the adagio section. Liebenow returned in the concert's second half for a performance of Beethoven's Romance for Violin - a deeply soulful piece that received a deeply soulful performance from Liebenow. The score doesn't offer up much in the way of fireworks and spectacle. Instead, it requires deeply expressive playing, and Liebenow was certainly up to the challenge, capturing the sweep and development of the piece, its deep passion and longing.
She's in such technical control of her instrument that she can make it do pretty much whatever she needs it to do at any given moment. Liebenow won a tone from the violin that was sweet and full-bodied - perfect, really, for this music's gentle lyricism. In her hands, a phrase really comes to life; she has a great sense of which notes to emphasize and exactly how much vibrato to use. Liebenow has been quietly building a formidable reputation for a number of years as a major voice in the region's classical music scene. After her performance Saturday, it's not hard to see why.
---
Duo performs violin sonatas from newly released CD
Bradley HillTopics, March 2007
| | |
| --- | --- |
| Bradley lecturer in music Marcia Henry Liebenow, left, and Antonio Pompa-Baldi, international pianist and professor at the Cleveland Institute of Music. | |
Marcia Henry Liebenow, Bradley lecturer in music, and Antonio Pompa-Baldi, international pianist and professor at the Cleveland Institute of Music, gave a violin recital at the Dingeldine Music Center on March 13 to a standing room only crowd. The program consisted of two violin sonatas by Edvard Grieg and one by Mozart. Because of sustained ovations, the pair also played two encores. The recital was sponsored by the Intellectual and Cultural Activities Committee and the Bradley Department of Music. The duo recorded the Grieg Violin Sonatas for a CD that will be released by Centaur Records on October 1.

Henry Liebenow is the Concertmaster of the Peoria Symphony Orchestra and teaches violin, viola, and chamber music at Bradley. She brings her beautiful and expressive playing to an active career as a recitalist, chamber musician, and soloist across the United States and has appeared in Russia, Germany, and served as Primo Violino at the Orvieto Musica in Italy.

Henry Liebenow was honored in 2006 by the ArtsPartners of Central Illinois for her creative contribution to the community, awarded the "Outstanding Studio Teacher" honor by the Illinois American String Teachers Association in 2003, and has been nominated for Bradley University's Parents Association "Award of Excellence" three times. Her university and high school students regularly win concerto competitions, awards, and scholarships.

Recent engagements include solos with orchestras in Arizona, Illinois, Ohio, and Washington, a chamber music recital with Chicago Symphony flutist Mathieu Dufour, recitals and master classes at Mansfield University and Lebanon Valley College in Pennsylvania, and Mercer University in Georgia. With her Concordia String Trio, she has given recitals and lectures in Boston, Houston, Illinois, Iowa, Missouri, and Vermont. She is also a member of the River City String Quartet. In the summer, she performs at the Peoria Bach Festival, and is a faculty artist at the Red Lodge Music Festival in Montana, the Birch Creek Music Festival in Wisconsin, and the Warebrook Contemporary Music Festival in Vermont.

The New England Conservatory of Music awarded Ms. Henry Liebenow the Graduate Diploma in Violin Performance where she studied with James Buswell and served as his teaching assistant. She earned bachelor's and master's degrees with highest honors in Performance from Ohio University.

Pompa-Baldi serves as Distinguished Professor of Piano at the Cleveland Institute of Music. A silver medal winner at the 2001 Van Cliburn International Piano Competition, he also won the 1999 Cleveland Competition and a top prize at the 1998 Marguerite Long-Jacques Thibaud Competition. He teaches master classes around the world and at summer festivals including PianoFest in the Hamptons, TCU-Cliburn Institute and Southeastern Piano Festival at the University of South Carolina School of Music.

Pompa-Baldi tours extensively on four continents, most recently in London, Warsaw, and Beijing. He has brought his elegant, exquisite touch on the keyboard to some of the world's major concert venues including Cleveland's Severance Hall, Milan's Sala Verdi, Naples' Teatro Diana, New York's Lincoln Center and Carnegie Hall, Boston's Symphony Hall, and Paris' Salle Cortot, Salle Gaveau, Salle Pleyel, and the Theatre des Champs-Elysees. He has been seen and heard many times on French National Television Antenne 2 and Radio-France, Cleveland's WCLV, Boston's WGBH, and National Public Radio's "Performance Today," and appeared in the PBS documentary on the 11th Van Cliburn International Piano Competition, "Playing on the Edge."